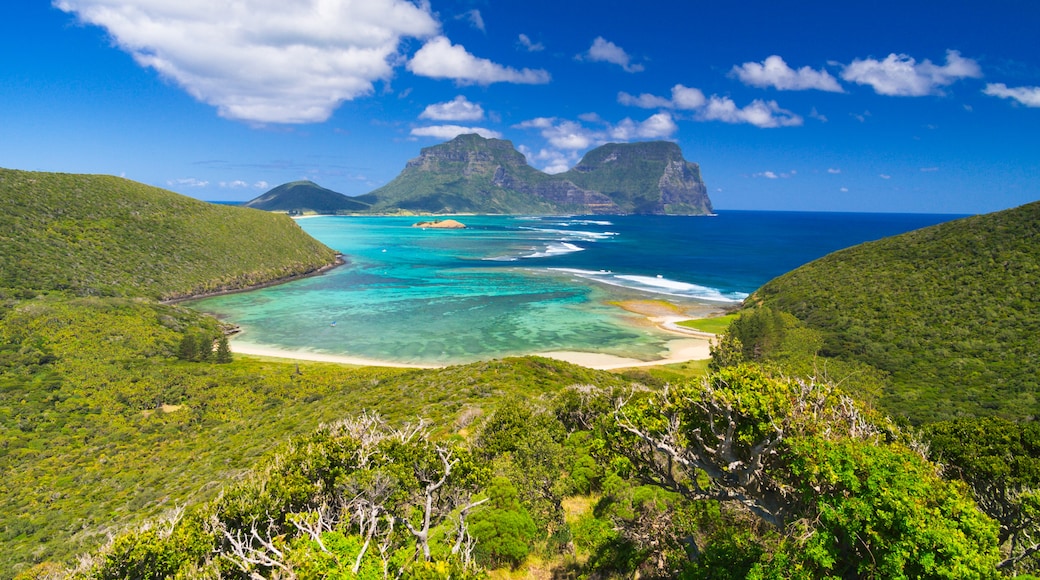 Book your Lord Howe Island holiday
Lord Howe Island Holiday Packages
When you think of a place with total seclusion, rare plants and animals, and no mobile phones—or even above-ground electric lines!—what comes to mind? Perhaps the Galapagos Islands, or somewhere far away in the South Pacific.
But believe it or not, there is such a place right in your own backyard—or a short flight from Australia's east coast, at least. Lord Howe Island's tourism motto is "Just paradise", and yes, that's pretty much all you need to know.
Okay, we do have a few more tips and titbits for you. But we guarantee you'll be racing to book Lord Howe Island packages before you even finish this guide.
Make Your Way to Lord Howe Island
This little alcove is purposely isolated, so unless you have a private yacht, there's basically only one way in and out: flying. If you do have a yacht, then good on ya! The rest of us willsettle for daily flights from Sydney or adding on to a Brisbane holiday with a little weekend jaunt. If you live somewhere in between, there are seasonal flights from Port Macquarie, too.
Check out Lord Howe Island package deals and pick your jumping off point. You'll be in the air for about two hours, no matter where you're coming from, and when you land, you'll look around and say "How am I still in Australia?"
That's the magic of Lord Howe Island holidays, mate.
What to See on Lord Howe Island
When we say this place is magical, we mean it. It's not just because of its incredible seclusion or seriously awesome activities, either. It's super important to hundreds of thousands of migrating birds and its lagoon is home to hundreds of aquatic species.
Although it's just 11km long, Lord Howe Island is no slacker when it comes to land adventures, either: it's got thermal springs, towering peaks and banyan forests to explore. It's no wonder the entire island group has been a designated UNESCO World Heritage Site since 1982. Holidays to Lord Howe Island are all about sunshine, stunning scenery and plenty of Mother Nature.
Leave your cell phone at home—you won't find any reception here—and hop on a bike to explore the island's 6km of roads. Take an easygoing bushwalk up Malabar Hill, one of the most popular hikes (although on an island with only 400 beds, "popular" is relative). Don't let the leisurely pace fool you the views from the top are a huge payoff, with plunging cliffs and sweeping panoramas. It's your best snap of the trip, for sure.
Lord Howe Island's motto doesn't lie. It really is "Just paradise"—and it's just a hop, skip and jump across the Tasman Sea. Whether you want to cast your line in world-class waters, check off a few feathery friends in your field guide or just make your human pals jealous with scenic selfies, Lord Howe Island holiday packages are always smart choices. Even smarter: Book with Wotif today for the best deals and selection you'll find anywhere. Now that's something to crow about.
Top Lord Howe Island hotels
Don't see what you're looking for?
See all available properties in Lord Howe Island
View all properties
Lowest nightly price found within the past 24 hours based on a 1 night stay for 2 adults. Prices and availability subject to change. Additional terms may apply.
Recommended cities for you