For some, 'spooky' only happens at Halloween, while for others it's a full-time obsession. Whatever camp you fall in, there are plenty of mysterious Aussie spots to make your hair stand on end. Here are six of our faves. Who knows? Maybe one will inspire your next trip!
Want more haunting Aussie travel inspo? Check out Four of Australia's Most Haunted Spots or Seven of the Spookiest Places in Australia after you finish this blog post. Now, without further ado…
1. The Hotel Windsor, Melbourne, VIC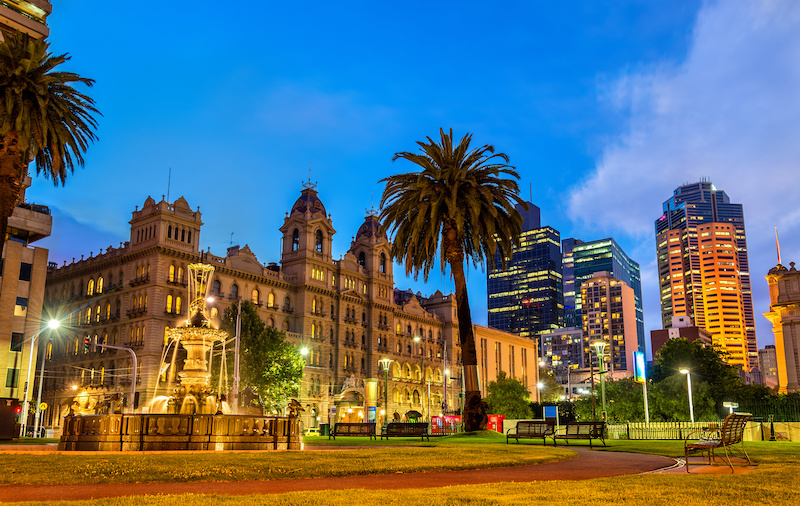 Established in 1883, The Hotel Windsor in Melbourne is nestled between luxury shopping, laneway haunts, and attractions like Fitzroy Gardens. The Windsor is a grand hotel that transports you to the Melbourne of yesteryear and has been popular with famous stars throughout its life, being conveniently located next door to The Princess Theatre (where you might find even more ghosts).
Notably, the Windsor was frequented by Dame Nellie Melba (1861-1931), a famous Australian opera singer from the Victorian era who would supposedly meet her lovers there in secret. It's said you can still hear Nellie singing through the corridors at night, sometimes with a ghostly companion protecting her room.
We recommend you visit at least once – if not to listen out for Nellie, then for a beautiful hotel in a fantastic spot 😉
2. Marree Man, Marree, SA
View this post on Instagram

If a mysterious Aussie outback experience is what you're looking for, we can't think of any grander than the Marree Man. Created in 1998, by an unknown person or group, it's a giant modern geoglyph – in fact, it's one of the world's largest works of art 😮
At 4.2km long and a whopping 28km around the circumference, the Marree Man is a massive drawing of an Indigenous Australian man hunting. It's so big you can easily see it from space, yet apparently no-one saw who made it. Wot?!
After the Marree Man was first spotted by a charter pilot, a series of anonymous press releases claimed the work was created by the United States. More clues at the site pointed to the Americans; a small glass jar containing a satellite photo of the Marree Man alongside a note with the US flag, a dedicated plaque, and a note with US cult references.
Closer to home, many believe the Marree Man was actually created by eccentric NT artist Bardius Goldberg, who supposedly received a large sum of money shortly after the mysterious image appeared. Goldberg had a history of creating large-scale artworks, and it's rumoured that he even confessed to the work while on his deathbed.
Other theories point to the mining industry, the military, or even an academic. Today, it seems unlikely we'll ever know the true creator, but the mystery is part of the fun. So is the sense of adventure that comes with seeing the Marree Man in real-life – the only way to do it is via a scenic flight booked from the local pub.
If you're thinking of making the trek, we recommend a stay at the Prairie Hotel, about two hours' drive from Marree.
Thanks to @nikyo_d for the awesome pic!
3. The North Kapunda Hotel, Kapunda, SA
Next time you're considering a wine tour in the Barossa Valley, why not mix up one of your days with a trip to Kapunda? It's just 35 minutes away and it's known as the most haunted town in Australia!
The North Kapunda Hotel first opened in 1849 and includes a pub on the ground level, underground rooms, and an upstairs level that once provided accommodation. Reports of paranormal activities are frequent; you might meet the two young girls who haunt upstairs, or the town's first GP, Dr Blood, who reportedly performed strange human experiments and still likes to hang around. And, yes, he really was named Blood. Dr Matthew Henry Smyth-Blood, to be precise.
There's a more sinister spirit known as the Man in Black, who visitors claim has told them to "Get out!", a maid who enjoys the gaming room, and more.
If you're up for a visit to the hotel, you can pop in for a pub meal or, even better, book a ghost tour to explore the really haunted areas.
Perhaps wine-and-ghost pairings are an untapped tourism experience for South Australia? 😉
4. Wolfe Creek Crater, Sturt Creek, Northern WA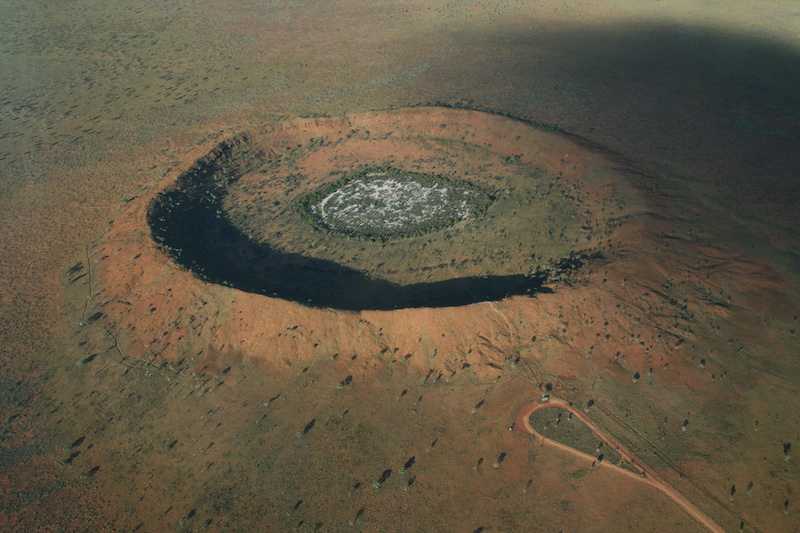 If you can put a certain 2005 slasher horror film out of your mind when you hear the words 'Wolfe' and 'Creek', then you can be creeped out by a much scarier concept – space!
Wolfe Creek Crater was caused by a 50,000-tonne meteor that crashed into the Great Sandy Desert around 300,000 years ago. There are approximately 300 meteorite craters around the globe and the Wolfe Creek Crater is the second biggest one from which meteorite fragments have been recovered.
Before Europeans found out about the crater in 1947, it was a gathering place for the Jaru and Walmajarri people. One traditional story says the crater was formed by a giant rainbow serpent that fell from the sky. Local Elders also have a song that refers to a star falling to Earth. It's believed this song predates the first contact between European and First Nations people in the region.
The crater and surrounding area are protected as a national park, which you can camp at. About two hours' drive away, you can also stay at the Halls Creek Motel or Kimberley Hotel Halls Creek. Just remember to travel respectfully when visiting remote and sacred locations so we can protect our incredible First Nations cultures and history.
5. The Rocks, Sydney, NSW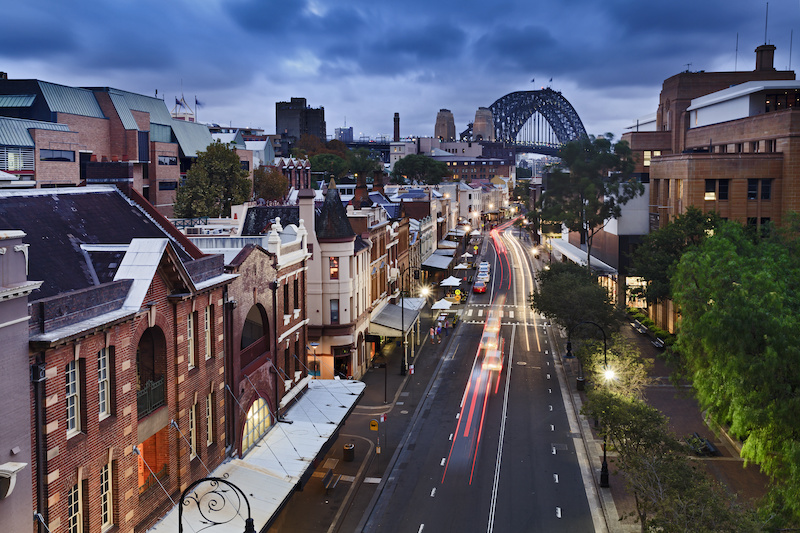 The Rocks, Sydney, was first known as Tallawoladah by its traditional custodians, the Gadigal people of the Eora. When the area was colonised in 1788, The Rocks quickly became home to newly arriving convicts, gangs and houses of ill repute. From sailors murdered in brothels to the 'Dead House' (a building dedicated to all the investigations into unexplained deaths in NSW. Spoiler – there were a lot), The Rocks fast became a slum. It continued to decay for decades and its history is full of gruesome misdeeds and mysteries.
After the bubonic plague tore through in 1900 and the start of construction of the Sydney Harbour Bridge in the 1920s, much of The Rocks was demolished. Over time, the area was redeveloped, eventually becoming the popular tourist spot it is today. But if you feel like taking a step back in time, there are many tours where you can learn about this neighbourhood's dark past – like the ghost tour run by the Harbour Rocks Hotel.
6. Boggo Road Gaol, Brisbane, QLD
View this post on Instagram

Once the largest and most notorious prison in all of QLD, today Boggo Road Gaol (Jail) is a popular Brisbane attraction that you can visit much more peacefully. There are ghost tours, as well as family-friendly history experiences for you to choose from.
Opening in 1883 as the Brisbane Goal, Boggo Road became infamous as a place of execution. It was home to Australia's most famous prison escapologist, Slim Halliday (aka the Houdini of Boggo Road); Australia's last bush ranger, Patrick Kenniff; the Whiskey Au Go Go bombers, James Richard Finch and John Andrew Stuart; and many more.
A purpose-built women's prison was added in 1903. Its purpose changed over time, but it is now Boggo Road's only remaining building and heritage-listed.
Thanks to @spank_n_furter for the snaps!
Wot ghost or mystery are you chasing on your next trip?
CHECK OUT WOTIF
Heads up! Due to COVID-19, government restrictions are in constant review and travel guidelines may change. We strongly recommend that all travellers seek further information about destinations and attractions before scheduling trips or making bookings, take extra care and follow all rules.