Australia's First Nations culture is estimated to date back more than 60,000 years, making it the oldest continuous culture in the entire world! 🤯 We're so lucky to have access to this rich, ancient culture right here in Oz. Here are just a few of the many amazing First Nations experiences you can immerse yourself in around the country.
1. Wake up at Uluru, NT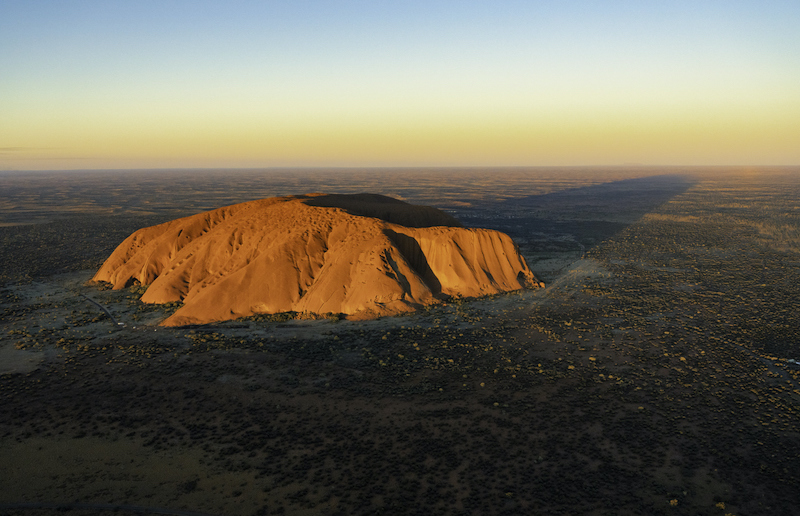 No list would be complete without the iconic landmark of Uluru, one of the most culturally and spiritually significant sites for the local Yankunytjatjara, Pitjantjatjara and Anangu people. Head to Australia's Red Centre and join the amazing SEIT Patji tour, where you'll be guided around the sacred lands by the Uluru family, as well as get a glimpse of the desert and the wonder that is Uluru from a private sand dune.
Stay nearby: Emu Walk Apartments – You're just five minutes drive from the edges of Uluru-Kata Tjuta National Park and just 20km from the famous rock itself at this relaxed hotel. Plus, there's a lounge bar on-site, perfect for cooling off after a day exploring in the NT heat!
2. Take a tour with the Gunditjmara People, VIC
The Gunditjmara people of Victoria's south west have a fascinating history of aquaculture stretching back almost 7000 years. With Budj Bim tours, you can learn all about Australia's first (and largest!) freshwater stone aquaculture system, as well as explore the lush surrounds of Budj Bim National Heritage Landscape and the original stone dwellings of this fascinating community.
Stay nearby: The Ivy Bank, Port Fairy – A perfectly renovated former bank, this lovely hotel features antique furniture and an awesome location right in the heart of beloved Port Fairy, Wotif's 2019 Aussie Town of the Year! Plus, you're less than a 40-minute drive from Budj Bim.
3. Urban Indigenous Experience, WA
Think you can't learn about the history of Australia's First Nations People in the heart of the city? Think again! Urban Indigenous is a collective of First Nations guides, storytellers, cultural educators and, of course, artists, who organise authentic and interactive experiences (with private bookings available), run by a passionate team who are committed to presenting diverse, interactive and authentic First Nations experiences, from art guidance to informative workshops.
Stay nearby: Alex Hotel – This very cool boutique hotel doesn't just look great – it's got all the mod cons too (and then some 😎). We're talking a rooftop terrace, on-site wine bar and restaurant, its own excellent cafe and complimentary bikes to borrow for scooting around town.
4. Garma Festival, NT
This four-day festival (generally held in at the end of July and into August) in remote Arnhem Land is a vibrant celebration of the Yolngu culture. Over several exciting days, you'll get to experience traditional miny'tji (art), ancient story-telling, manikay (song) and bunggul (dance) as well as cultural programs and screenings of First Nations-produced and created films, all with the backdrop of the stunning Arnhem Land surrounds.
Stay nearby: Walkabout Lodge – You'll have your pick of waterside places to hang out at welcoming Walkabout Lodge – there's an on-site outdoor pool, but it's also just across the road from the wonderful coastline of NT's Gulf of Carpentaria.
5. Gulaga creation tour, NSW
The Gulaga creation tour is a three-day guided tour through picturesque Yuin Country on NSW's south coast. Connect with and experience the history of the local people, hear stories of the sacred Dreaming of creation and share in the amazing knowledge of this beautiful coastal straight from a First Nations guide.
Stay nearby: Horizon Apartments Narooma – Each apartment at this special Narooma spot boasts living and dining areas, as well as kitchens with stovetops and coffee-makers for easy at-home catering. It's also right in the heart of Narooma… and the balconies have great views of the ocean!
6. Wukalina Walk, TAS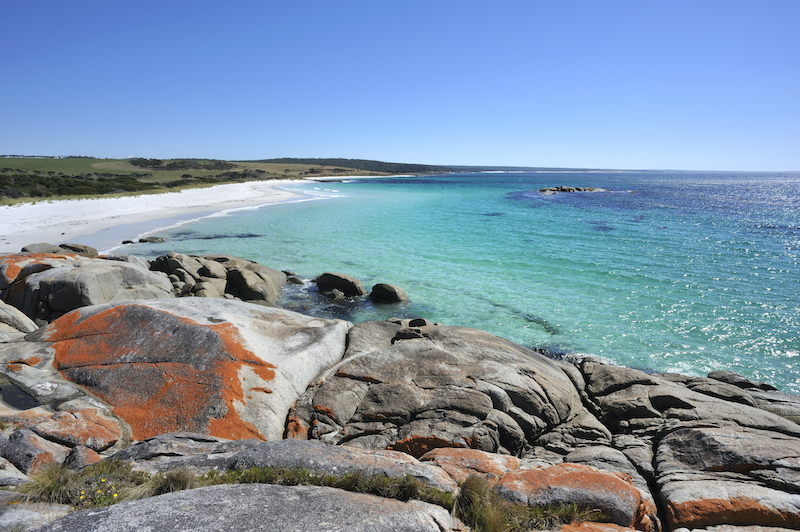 Immerse yourself in the landscape of Tasmania's beautiful Bay of Fires with the three-day, four-night Wukalina Walk Tour – the first Indigenous Australian-owned and operated tour in Tasmania. Deepen your understanding of palawa (Tasmanian First Nations culture), and spend the night in bespoke, palawa-inspired huts, where your guides will serve up freshly caught crayfish and share their culture with you.
Stay nearby: Beach Side Bay of Fires – Check out those views! You'll probably be too busy staring out over Tassie's east coast from the terrace to notice the other great benefits of this Binalong Bay holiday home (including three bathrooms, a garden and super comfy sitting area).
7. Visit the Tiwi Islands, NT
Also known as the 'islands of smiles', the Tiwi Islands are just 80km north of Darwin and are full of hospitality and unique local flair. Take the 2.5 hour ferry to Bathurst Island, where you'll be greeted by more than friendly locals – there's a thriving art community that you can experience through cultural walking tours as well as a passionate AFL-mad gang, too. (The island's annual grand final in March is serious business and a heap of fun to head along to!) Although there are restaurants on the island, there's nowhere for takeaway so it's a good idea to pack lunch if you want to eat on the go. May to September is dry season, so it's best to visit then (apart from grand final March, of course!).
Stay nearby: Oaks Darwin Elan Hotel – You'll be greeted with amazing views over Darwin's waterfront from any balcony at Oaks Darwin Elan Hotel. Each room is self-contained and there's also an outdoor pool, gym and restaurant on-site for an awesome Top End holiday.
Heads up! Due to COVID-19, government restrictions are in constant review and travel guidelines may change. We strongly recommend that all travellers seek further information about destinations and attractions before scheduling trips or making bookings, take extra care and follow all rules.